Rajasthan is known for its vivid folk dance and music, massive forts and palaces, spicy cuisine, huge and colourful turbans, vast golden sand desert, camels, and rich craftsmanship Rajasthan hosts a variety of fairs and festivals for cultural buffs to enjoy. Even the livestock fairs in Pushkar and Nagaur are a sight to behold because of the extravagant way in which they are held. Desert Festival, Bikaner Camel Festival, Nagaur Fair, Pushkar Fair, Elephant Festival, Mewar Festival, Mount Abu Winter Festival, Gangaur Festival, and Teej are some of the most well-known tourism events in the state that exhibit the state's unique traditions, customs, folk dance, and music.
Here are the Top 5 National Park in Rajasthan  
1: Ranthambore National Park 
This is one of India's top tiger reserves, with "friendly" tigers and a greater chance of seeing one than many other Indian tiger reserves. Ranthambore also features some of the world's most diverse flora and wildlife, making it a must-see destination. Ranthambore is notable for its tiger reserves and the variety of flora and wildlife found in the slopes of the Vindhya and Aravali Hills. Ranthambore is a traveller's joy thanks to the Ranthambore National Park, the Ranthambore Fort, and the surrounding hills and valleys. The location is ideal for trips and tourism, as well as wildlife photographers. Safari rides and hot Rajasthani choices for shopaholics add to the excitement.
Ranthambore National Park, which covers 392 square kilometres, provides a natural home for a variety of exotic animals. Birdwatchers will love it, and it's a great spot to see creatures in their natural environment. Built-in the 10th century, the Ranthambore Fort towers above the whole National Park. The Fort is a UNESCO World Heritage Site that was built by the Chauhan Dynasty. The Trinetra Ganesh Temple, a magnificent temple dedicated to Lord Ganesha, is located within the fort. Throughout the year, Ganesha enthusiasts visit the temple. Lord Shiva and Ramlalaji are the subjects of the other two temples. Other features of the Fort include two Jain temples dedicated to Lord Sumatinath and Lord Sambhavnath. The Padam and Surwal lakes are very beautiful. Other sights in the Fort include two Jain temples dedicated to Lord Sumatinath and Lord Sambhavnath. The Padam and Surwal lakes are only two of the many bird watching hotspots in the area. Early dawn is the best time to go to these lakes. The Jogi Mahal, a red sandstone wonder, is located near Padam lake. Ranthambore gets brownie points for its Kachida Valley, which is known for seeing panthers and bears, as well as the Raj Bagh Ruins and adjacent deciduous forests. 
2: Bharatpur National Park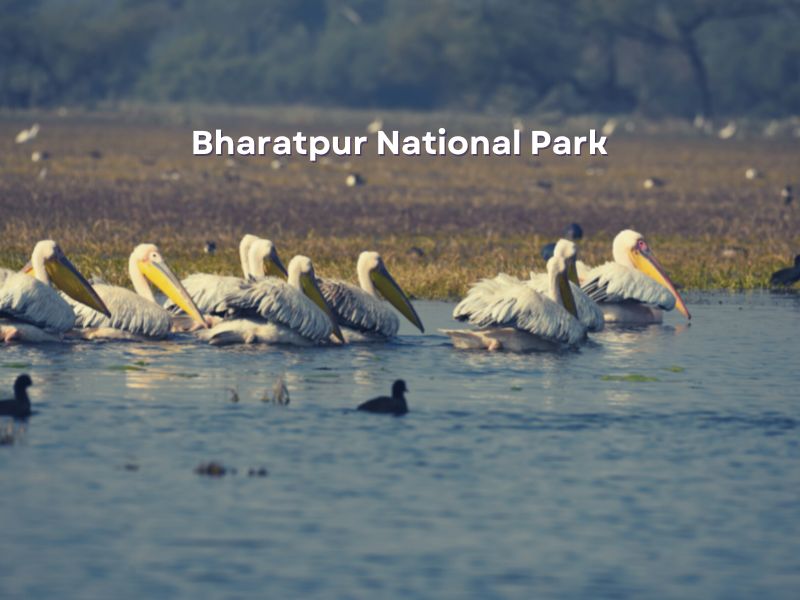 Bharatpur National Park (Bharatpur) is a national park located in the city of Bharatpur.
Bharatpur National Park, currently known as the Keoladeo National Park, is a well-known avifauna refuge and a bird-watching paradise that has been designated as a UNESCO World Heritage Site. Ghana, a patchwork of dry grasslands, forests, wooded swamps, and wetlands, is a 29-kilometre reserve known locally as Ghana. 366 bird species, 379 flower species, 50 fish species, 13 snake species, 5 lizard species, 7 amphibian species, 7 turtle species, and a variety of other invertebrates may all be found in these various ecosystems. Thousands of migrating ducks flock to the area each year to nest throughout the winter.
The sanctuary is home to some of the world's most abundant bird populations. The refuge is home to some of the world's most diverse bird populations. It is a man-made structure where residents and visiting migratory birds, particularly aquatic birds, build their nests. It's worth noting that this location was previously a waterfowl shooting site for royalty and the British, but in 1971 it was transformed into a sanctuary for birds and other species. You may go on a Jeep Safari or a Rickshaw Safari to see unusual birds and creatures that live in the bush. Bharatpur Bird Sanctuary is a bird lover's dream come true, and photographers will enjoy their visit as well.
 3: Jaisalmer Desert National Park
Desert national park, located near Jaisalmer, is one of the country's largest, covering 3162 square kilometres. The park stretches from Jaisalmer/Barmer to the India-Pakistan border. Despite its location in the heart of an arid, dry, and sandy desert, the desert national park provides a fantastic opportunity to witness species such as camels, desert foxes, Bengal foxes, chinkaras, wolves, desert cats, and Blackbucks. The fascinating site has jagged rocks and compact salt lake bottoms, intermedial spaces, and permanent dunes, all of which are typical of a desert environment. About 20% of the park is made up of dunes. The entire region is on fire.
It lies near to the vast Thar desert and defies all stereotypes about deserts being devoid of plants and species. Even though the environment is harsh and fragile, it is home to a diverse range of migratory and resident desert birds, and it is a shelter for a variety of migratory and permanent desert birds. One of the rarest birds, the Great Indian Bustard, is found here. Other birds observed here include eagles, harriers, falcons, buzzards, kestrels, vultures, Short-toed eagles, tawny eagles, spotted eagles, laggard falcons, and kestrels. Life forms are always battling the harsh environment to live and thrive, resulting in the creation of yet another natural wonder. Aside from the amazing birds, the desert park also houses a collection of animal and bird fossils, some of which date back over 180 million years. The fossils of Dinosaurs dating back 6 million years have also been found here.  Visiting a desert national park to see huge birds soar through the skies while marvelling at the desert's shifting environment is undoubtedly one of the greatest ways to spend your vacation.
4: Sariska Wildlife Sanctuary in Alwar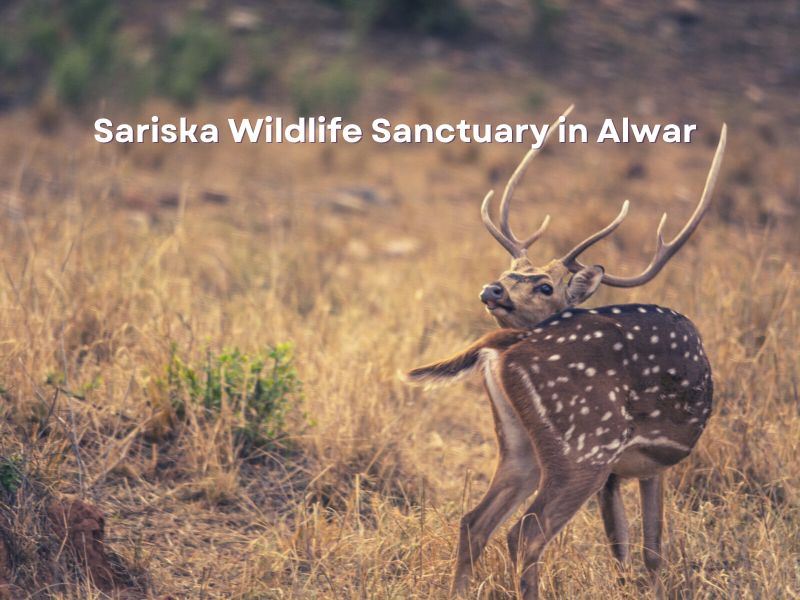 The Sariska National Park, currently known as the Sariska Tiger Reserve, is located in the Aravali Hills and spans an area of around 800 square kilometres, including grasslands, dry deciduous trees, cliffs, and rocky terrain. The Maharaja of Alwar used to do his hunting in this reserve which is well known for its beautiful  Royal tigers. In 1982 it got the caption of the national park. The Kathiawar-Gir dry and the Aravali Range is a deciduous forest and is home to animals living there is considered a protective area. It was considered as the best Tiger reserves project in the year 1978. It is also able to relocate the tigers from Ranthambore to Aravali  Hills because of its nestled amid the Aravali Hills
5: Nahargarh Biological  Park  
On the Jaipur-Delhi route, the Nahargarh Biological Park, which is part of the Nahargarh sanctuary, is about 12 kilometres from Jaipur. It is situated beneath the Aravalli mountain and covers a wide area of 720 hectares. The Park is known for its diverse flora and wildlife, and one of its primary goals is to protect it. It's also a fantastic site to teach people about existing flora and animals while doing research. Ornithologists may expect to encounter around 285 species of birds at Nahargarh Biological Park, the most popular of which is the white-naped tit, which can only be seen here. When visiting the Park, be sure to stop by Ram Sagar, which is well-known among bird watchers and makes for a great day trip.
The Nahargarh Zoological Park, which includes Asiatic lions, Bengal tigers, panthers, hyenas, wolves, deer, crocodiles, sloth bears, Himalayan black bears, wild boars, and other creatures, is well worth a visit. The zoo is open from 8.30 a.m. to 5.30 p.m. from 15th March to 14th October, and from 9.00 a.m. to 5.00 p.m. from 15th October to 14th March. Tuesdays are closed, so make sure to schedule your visit appropriately. Indian visitors: 50/- per person| Foreigners: 300/- per person| Students: 20/- per student| Car/jeep: 300/- per vehicle| Motorcycle: 30/- per vehicle| Auto rickshaw: 60/- per vehicle| Bus: 500/- per vehicle| Camera (Indian): 200/- | Camera (Foreigner): 400/-